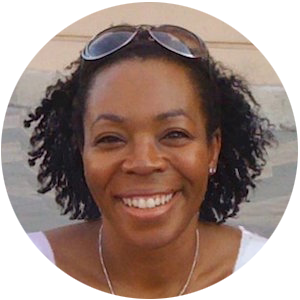 Dr. Nakeema Stefflbauer
Founder & Program Director 
Dr. Nakeema Stefflbauer earned three degrees in Modern Middle East History, including North African (migration & integration) and Near Eastern (informal trade & labor flows). In 1999, she switched from research to leading eLearning software projects for the NYSE, NYMEX, and for New York University School of Continuing & Professional Studies.
After 15+ years of launching e-Commerce, ERP, animation and mobile software projects in the US, Canada, and Europe, Dr. Stefflbauer created the initial program for the ReDI School of Digital Integration and led the Refugees on Rails Berlin chapter. Seeing unmet need, she founded FrauenLoop to drive integration and empowerment of under-represented women in tech-driven industries.
About FrauenLoop
FrauenLoop is a Berlin-based non-profit supported by software industry professionals. We train and mentor motivated EU resident and immigrant women who want to enter technology industry careers. In addition to weekly sessions, our students are mentored by professional software developers at Andela, a ground-breaking software company supported by the Chan-Zuckerberg Initiative.
Tech Mentors